Things to do in San Cristobal de las Casas
Things to do in San Cristobal de Las Casas
If you want to really experience authentic Mexico than we highly recommend visiting San Cristobal de Las Casas, Chiapas. It is a bustling town in the heart of Mexico hidden away in the middle of mountains that is full of culture, love, and authenticity. It is affordable, safe, and picturesque. It's a place that you may never want to leave as the things to do in and around town are endless, even if it just simply walking the pedestrian friendly streets. We were lucky enough to live in this town for 1 month and get a good feel for San Cristobal and the indigenous culture. Here are our recommendations on what to do, where to eat, where to stay and some extra tips that you will find useful during your stay here in San Cristobal de las Casas.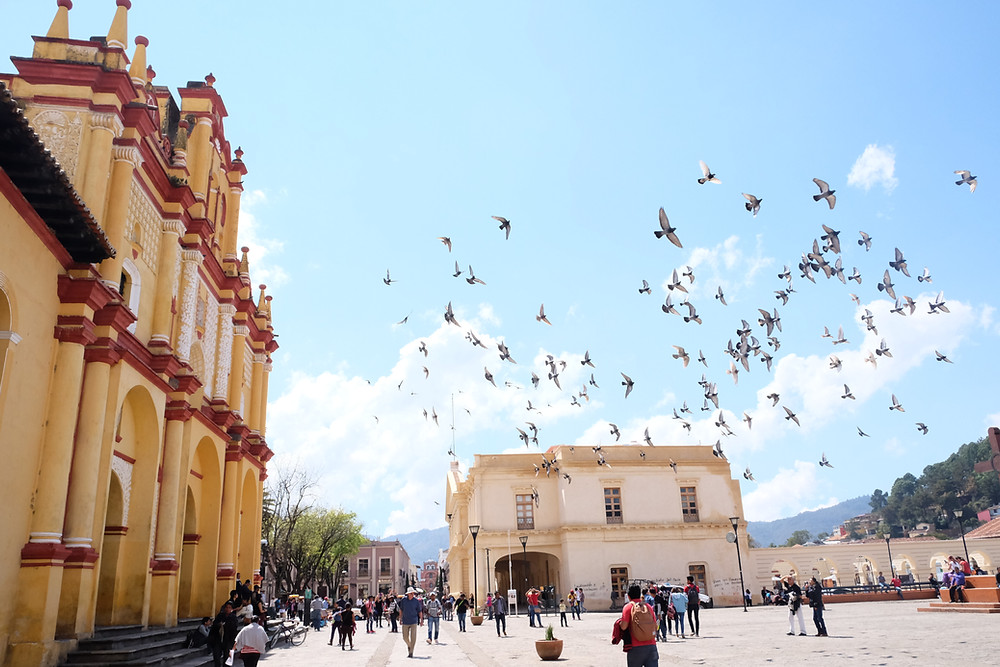 What to do in San Cristobal
1. Explore the pedestrian friendly streets & sit back and enjoy a Chiapan coffee or hot chocolate at the various cafes and restaurants.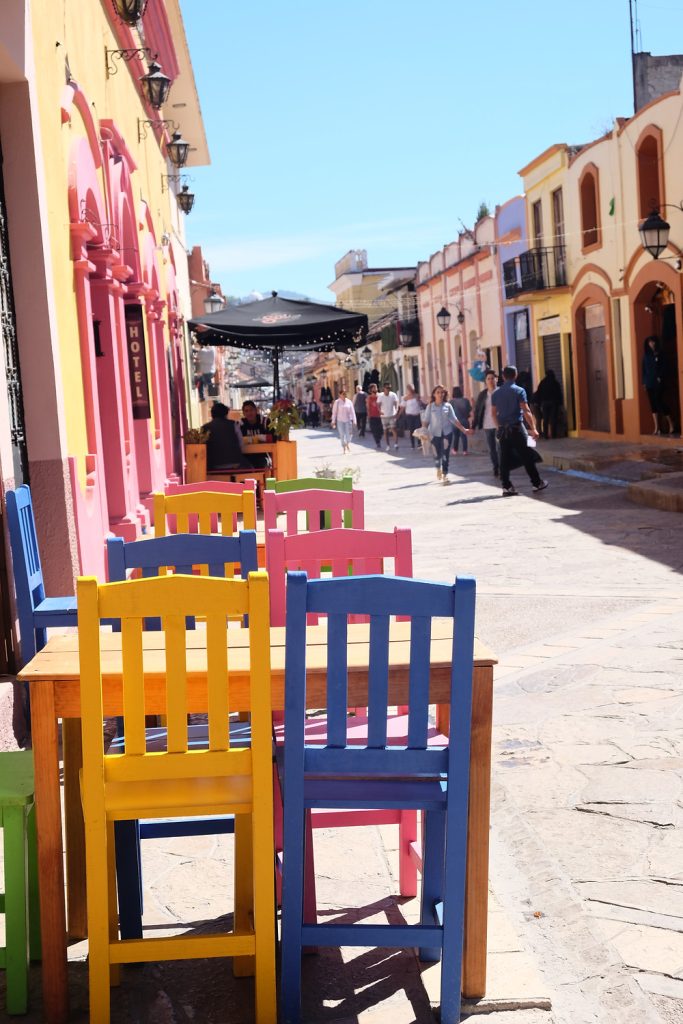 2. Take a day trip to see Canyon de Sumederio. There are organised tours that range between 200-350 pesos that will take you there and back. It also includes a 2 hour boat ride through the canyon and a 1 hour stop-over in Chiapa de Corzo. It's a good way to sit back and enjoy the beautiful scenery. We don't advise swimming unless of course you feel comfortable swimming with crocodiles 😉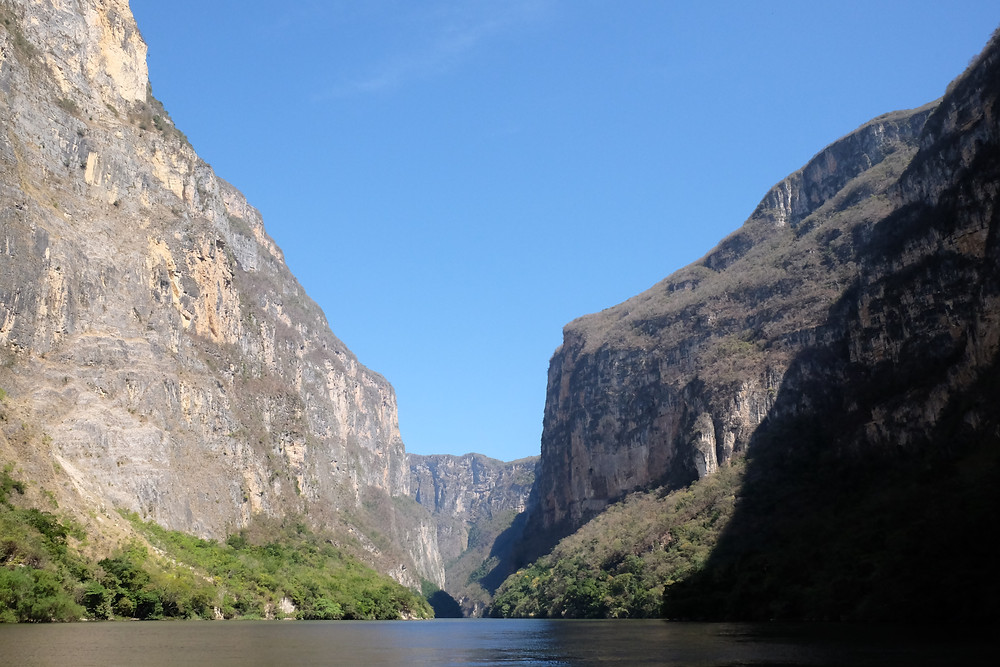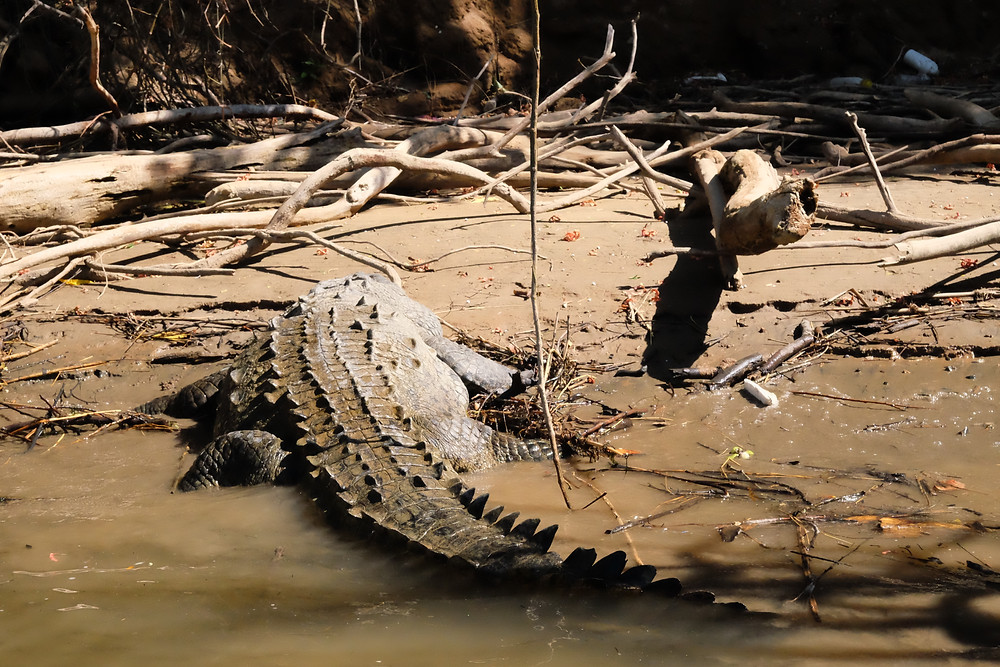 3. Hire a car and drive to see Lagos de Montebello and Cascada el Chiflon. We recommend staying the night and taking two days to see both of these places as it can be quite a long day. If not, you can go for the day to either of these places and enjoy the warm weather and breath-taking scenery. We recommend packing your swimmers and towel as you don't want to miss out on jumping in this crystal clear water.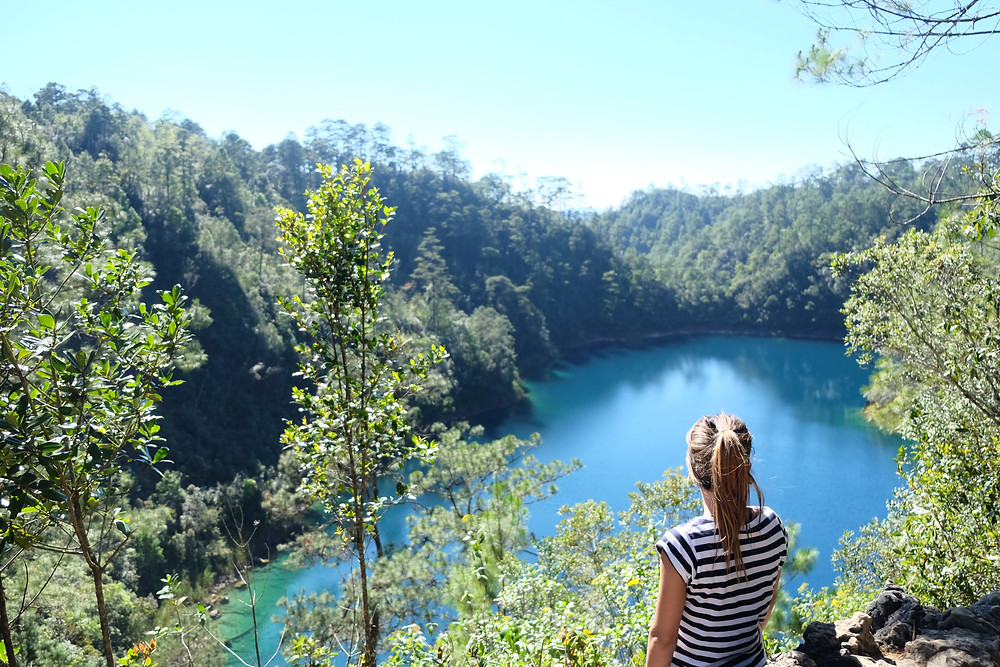 Lagos de Montebello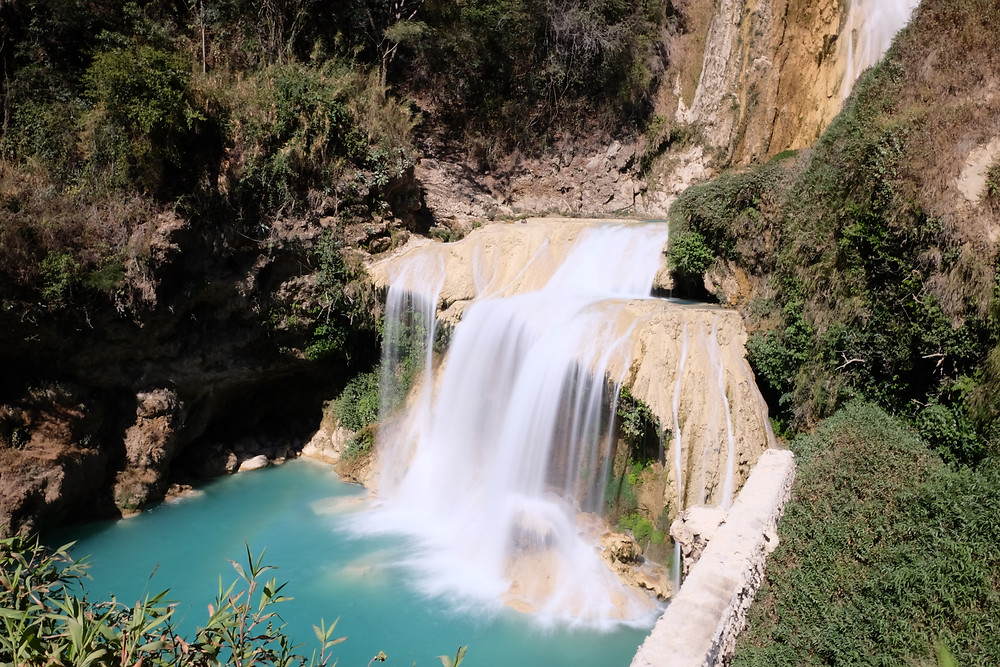 Cascada El Chiflon
4. Get out of your comfort zone and visit a small town called Oventik and experience the way the Zapatistas live. Don't worry, this place is known to be safe although it can seem quite intimidating (you'll see why)
5. Hire a bike and ride to Chamula. If riding isn't your thing than jump on a collectivo (local bus), it should only cost you about 15 pesos each way. We recommend visiting the church while you are there as it can be quite the unique experience. If you have a weak stomach or do not feel comfortable with the idea of witnessing a chicken being sacrificed, maybe this isn't for you. However there is lots to see and do in this town which include walking the streets and getting carried away with their beautiful colourful accessories and textiles. It's a true Mexican experience.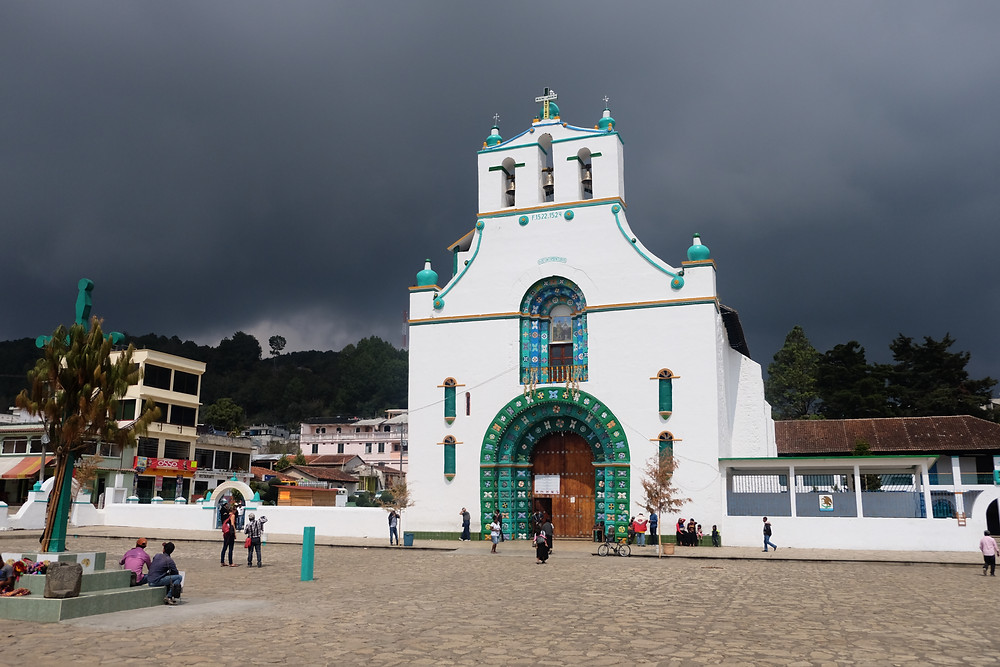 6. If you are interested in the Mexican textiles we highly recommend that you take the opportunity to visit small surrounding towns. Our favourites include San Andres, Magdalena Aldama, and Zinacantan. Here you might be lucky enough to go into the locals homes and see firsthand how the women make their textile pieces.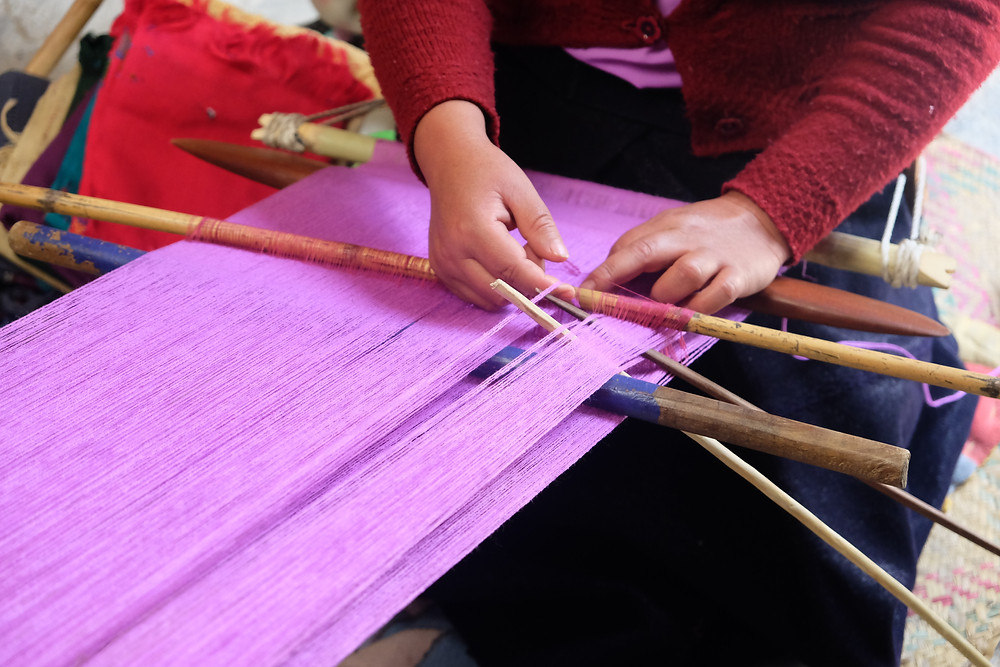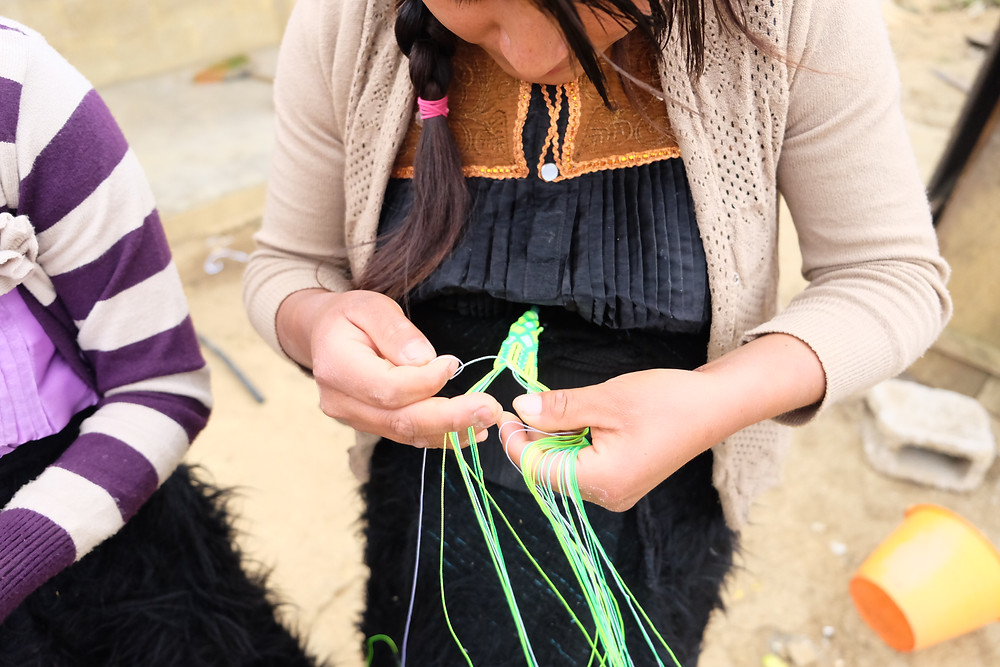 7. If you like hiking then the hike up El Mirador is for you. Try and get there before sunset to catch a view of the whole city in fading light. Make sure you have a phone with a torch to make sure you can find your way back down the mountain in case you get carried away with time.
8. Take Spanish lesson with a local. This is a great way to learn the language from a true local themselves and to then be able to communicate with people in restaurants and within the streets. We were tutored by a local lady named Christina who charged 100 pesos/hour and she was great! (contact us for her details).
9. If you are here on a Saturday and plan to stay for a few extra days than you can't miss out on their hidden organic market which is located close to the textile market and parallel to its pedestrian friendly street (You can always ask a local if you can't quite find it). Here you can purchase fresh organic produce, cheese, bread, and meats to take away and you can even enjoy a brunch in the market. They have delicious quesadillas, pizza, and arancini balls.
10. Get lost within the textile market and fill your wrists with colour. You will be amazed at the colour, talent and affordable prices here within the market. It is a place you cannot miss! Just a tip: make sure you have small notes on you in case they don't have change.
11. Grutas de San Cristobal – If you enjoy seeing caves then there are a few around San Cristobal that are all within close distance. You can catch a collective or taxi to either of these caves and it should only take you a few hours. A nice thing to do for an easy afternoon.
12. Watch the sunrise from El Mirador de San Cristobal and the sunset from Templo de San Cristobal. Be prepared to walk up several steps but try not to be too hard on yourself if you feel more out of breath than normal because it is higher in altitude here!
Where to stay
Stay at Puerta Vieja hostel and experience a true Mexican and friendly vibe. A little warning, you may end up staying longer than expected. Here at Puerta Vieja they serve FREE breakfast every morning, and not the boring coffee and toast kind of breakfast, but the option of either a freshly cooked Mexican style cuisine or a crepe/pancake served with fruits that change everyday. On most nights of the week this hostel also offers a 50 peso dinner that is freshly cooked by the kitchen staff. They also offer free cocktail nights, free live music, and yoga classes each morning. The staff here are all friendly and the hostel is always being cleaned to ensure a hygienic and comfortable stay for everyone. There are also private rooms available if you prefer having your own space, a few of which even have their own private bathroom.
Where to eat/drink:
Tierre Adentro – a comfortable & affordable café/restaurant that serves a range of different foods from pasta, tacos, to Chiapas coffee. This café supports the Zapatista movement (Indigenous communities).
Te Queiro Verde – a vegetarian restaurant that serves up delicious burgers and salads.
El Caldero – The perfect place for a cold night with its delicious hot soups.
La casa del pan – If you fancy dark green leafy vegetables, home made bread and organic foods, than this is the place for you. Not only is it a good place to eat but you can also buy fresh bread and other organic products to take away. And why not try a yoga class here while you're at it ?
Organica Natura – This is a comfortable little café right in the centre of the main pedestrian friendly street 'Real De Guadalupe' that offers delicious breakfast (desayuno) and our favourite artisanal hot chocolate!
Bancook Thai restaurant – If you love your Thai food and want a change from Mexican food then this is the perfect place to enjoy a meal. It's one of the 'fancy' restaurants in the town that offer great service and tasty food!
Oo lala – If you have a sweet tooth than you definitely can't miss this place. They serve up some delicious French treats and tasty gelato – not to mention it is located right next door to Thai which makes for the perfect dessert after a good dinner.
Lactate Maya – A delicious cheese shop that is located at the end of the pedestrian street 'Real de Gudalupe' that serves up a range of different fresh cheeses, hummus and other dips, gelato and even tortillas.
Carijillo – This is one of the best cafe's we have tried in San Cristobal. The coffee is delicious and the hot chocolates are also top quality. Don't miss this you'll regret it!
Cocoliche – A quaint little restaurant just off 'Real de Guadalupe' that serves great food and delicious desserts.
Cacao Nativa – This franchise has some of the best chocolates in Chiapas including frappes and hot chocolates like no other. Stop by if you can but be prepared to pay a little more than other places here. It's worth the treat 🙂
Crepes off the street – Don't be afraid to eat the crepes sold off the streets. They are cheap, quick and TASTY!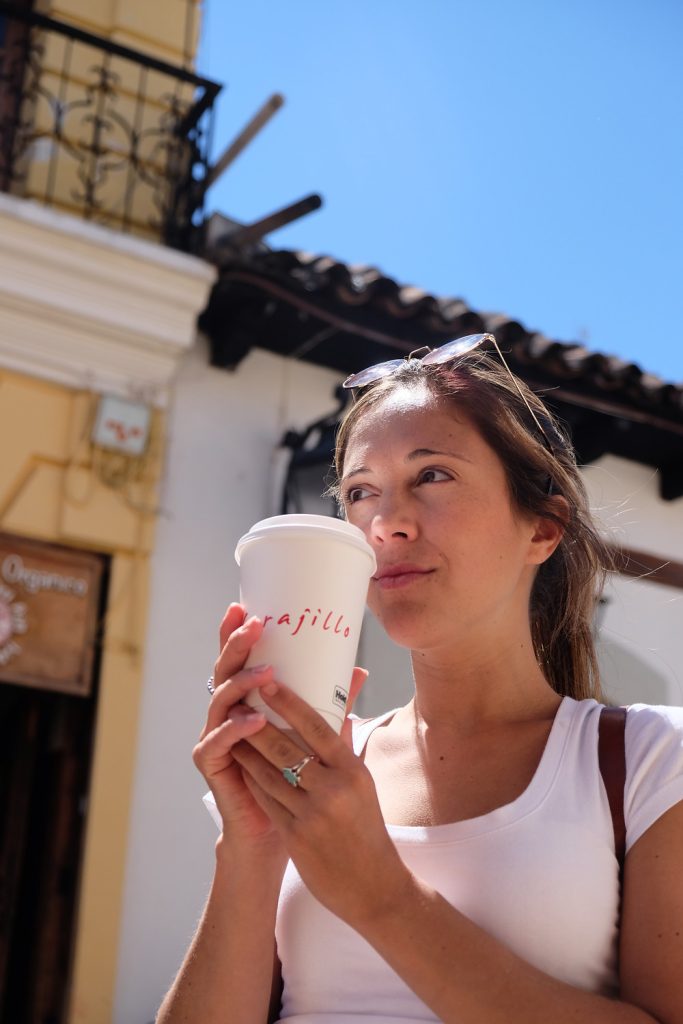 Popular ways to get to and from San Cristobal
Tuxtla Gutiérrez:
You can fly in and out of Tuxtla Gutiérrez and catch an ADO or OCC bus (Aprox 240pesos per person) directly to/from this airport to San Cristobal. This will take you and pick you up directly from the bus station close to the centre of San Cristobal. When you arrive at this bus station make sure you have an offline map or a map from lonely planet so you can direct yourself to your hostel/hotel. It shouldn't be too far of a walk, hopefully no more than 15 minutes depending on where you are located.
Puerto Escondido:
There are ADO and OCC buses that can take you to and from San Cristobal (Approx 400-500pesos depending on how in advance you book). This is a long journey of about 12 hours but a popular route for many backpackers who are interested in seeing the coast line of Oaxaca.
Palenque:
There are ADO and OCC buses that can take you to and from San Cristobal (Approx 200-300 pesos depending on how in advance you book). This is a fairly long journey of about 7 hours but a popular route for many backpackers who are interested in seeing the Mayan ruins and making their way up toward the Yucatan region.
Extra Tips
1. Buy water disinfectant from the local supermarket and use this for all of your fresh vegetables and fruits. It's a small blue bottle yin most supermarkets you won't miss it.
2. If you get sick (Mexican belly) there are a few Medical centres next door to pharmacies that can provide you with a brief check up and medicine. You can also go to La Casa del Pan (located on Real de Guadalupe) and buy Chilchawa. This is a natural herb that has been recommended by many of the locals as a natural remedy to help fight the bacteria that most travellers tend to experience.
3. Go into a bank to exchange your large notes for smaller ones as many places don't have change.
4. Avoid brushing your teeth with the water and of course DO NOT drink it or wash your fruits and vegetables with it. This water is very contaminated and is likely to cause a bacterial infection. Keep hand sanitiser handy while you are on the go to be extra careful.
5. Always try and use local currency for the best deal. Exchange rate is currently 19:1 USD and 15:1 AUD.
6. You will be approached by local children asking for money, however, the advice we were given is that the best way to support their future is to not give donations but rather support their trade.
7. Although the days are warm and the sun is shinning (sunscreen is advised), be prepared for cold nights. If you don't bring enough warm clothing though that is more of an excuse to cover up in their local scarves and jumpers that will keep you extra warm, all of which can be purchased from the textile market or even off ladies selling in the streets.
Hope you found this blog useful and will enjoy San Cristobal de Las Casas as much as we do 🙂
#ThingstodoinSanCristobaldelasCasas #Wanderlustaussies