How to make money while travelling
If you love travel you have probably considered the possibility of quitting your 9-5 and getting in on the digital nomad society. There is lots of hype about it at the moment with bloggers and entrepreneurs claiming they are raking it in! While some may be telling the truth take it all with a grain of salt. Below are some money making paths we have come across each with their own Pros and Cons to suit your preference.
Get a job abroad
How to make money while travelling Get a job! It may seem silly to think but getting a job may be the easiest and simplest solution depending on where you have traveled too. While there is all the hype about being a digital nomad, in first world countries like Australia or England, earning a local wage may be the best way to keep your travels going. Not only is it a straightforward solution it's often a great way to interact with locals and get a cultural experience. Our top tips would be to get a job in a bar, become a tour guide or work in a hotel/hostel. 
Create an online empire
While getting a job may be the traditional option, more popular these days is the idea of creating an online income stream. If you read enough online blogs you will hear amazing stories about the income of so called bloggers, digital nomads etc. etc. Is it possible to make a killing online? Yes…Is it likely you will make a killing online? No, not without some serious effort and dedication. Below are some ways that digital nomads are making money online and our honest opinion on each. 
Start a Website / Blog
When we started our blog we wanted nothing more than to write a travel diary for ourselves and to share. Realistically we don't see Wanderlustaussies as a big money maker but it has been an incredible way to network and learn invaluable skills. Rather than an income stream blogging for us has been a way to share unique experiences and on the odd occasion be invited to enjoy complimentary stays and experiences in exchange for exposure. Blogging, when taken seriously can actually make considerable dough, but unlike a job it will take time to build up an income stream. Websites/blogs will often make money in 3 ways.
1.Through affiliate sales where the website owner makes a commission when their readers purchase a recommended product.
2. Advertising space, essentially selling the virtual billboard that is your website, Google Adsense or creating branded content is just two ways in which bloggers do this.
3. Selling a product, whether an E-book or consultancy service bloggers are often selling their niche expertise to keep their cashflow ticking over. 
Should you consider blogging as an income stream? It really depends if you want to invest the time. Don't expect to be an instant blogger who will get free stays and paid content. It takes lots of time and effort. What you will get is invaluable skills that are applicable for so many job opportunities. If you travel and keep a blog see it as an affordable digital education and if you make money it's a bonus. As a blogger you will need to learn the following skills Website development (Start with Wix, Move to WordPress if serious) Photography (start with a smart phone, research a DSLR when ready) Social media (Find the appropriate one for you: Instagram, YouTube, Facebook, Pinterest) SEO ( Learn SEO from the beginning! If you want to take blogging serious SEO is king)
Drop Shipping
All the skills of the above plus add an additional online store. Dropshipping is a relatively new concept which you may have come across and not noticed. We all have the dreams of opening an online store and selling a product for cash. One problem with this is that you need to find a product, invest a lot of money and then deal with the postage! Well imagine if all you had to do was set up an online shop and market market market! The most common example of drop shipping is to import a product from Ali Express into a Shopify store using a widget called Oberlo. Say you find a fancy travel watch just like this one but feel people are willing to pay much more, then you would simply import the item into your store bump up the price and then implement your marketing strategy to get attention. Once someone has purchased the watch off your site all you do is use organise for the shipment to be sent to their address. Example from online store Example from Ali express 
Should you do it? It is a bit of a shady tactic due to the clear exorbitant mark-ups. For it to work you need to be good at driving traffic to your online store so marketing is key. The other issue with Dropshipping is the length it often takes for deliveries to be executed and the chance of low quality items and complaints. 
Work remotely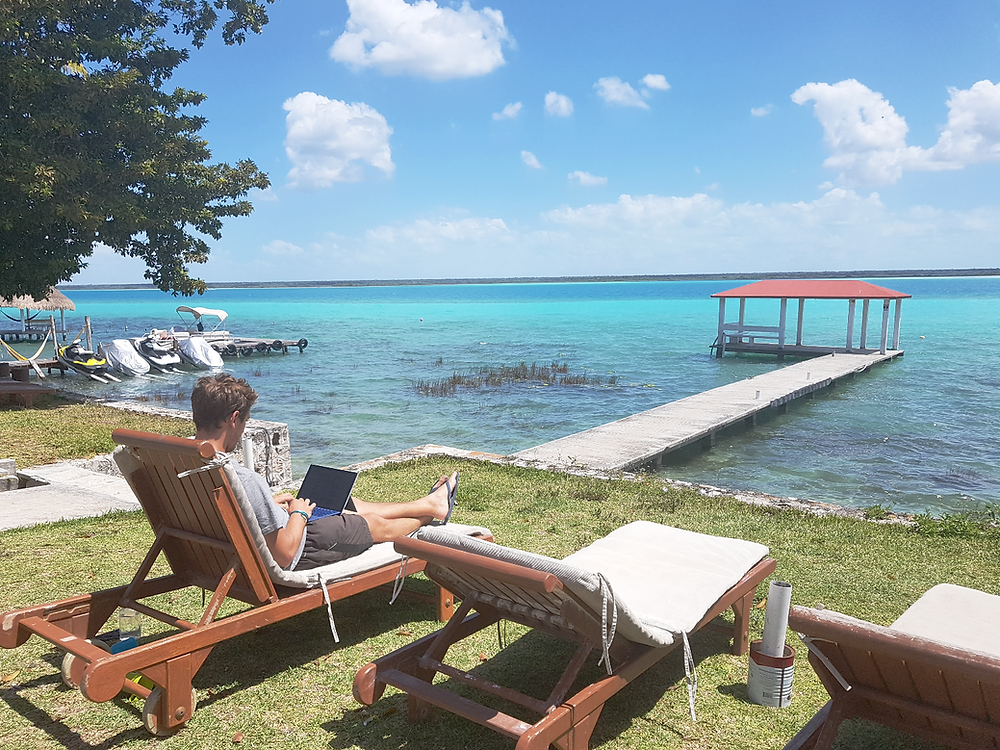 Do you have a skill or service you can offer remotely? For those of your reading from a first world country you are in luck! If you are earning a first world rate of pay but travelling to comparatively more affordable locations you should easily be able to work part time and maintain your travels. For example if you work as a social media manager for an Australian business and earn $20 an hour for 10 hours you should easily be able to survive in a country like Mexico, Thailand or Poland. There are quite a few websites that allow you to connect with businesses as a freelancer the only key is to have a sale-able skill. (Website building and tech industries are very popular). Alternatively look for a job in your home country that allows you to work remotely then travel! Some websites to check out 
Upwork 
Gumtree – Australia 
Fiverr
This option is great for you if you have a skill you can use while abroad. Its a great way to develop your skills and still engage with the local culture. Are you a photographer? Language teacher? Artist? If you know how to market yourself and stay in your travel destination long enough there is no reason (other than visa restrictions) that you couldn't create your own little entrepreneurial venture.
Trade Crypto Currencies

Now take this suggestion with a grain of salt. Cryptocurrencies are in modern terms an unknown quantity with huge potential. Take this guy for example who invested in Etherium, forgot about it and then returned from his travel almost a million dollars richer. Read the story crypto dream story Now we aren't financial advisors but we have dabbled a little with crypto currencies through the Australian exchange Coinspot or for international users you can try Bittrex. Cryptocurrencies are incredibly volatile but if you do a little research about blockchains you will quickly understand that there is actually a huge possibility behind them. Do your research, understand the currency you are investing in, only invest what you can afford to lost and pray you jumped in at the right time. 
Steemit

Steemit is an exciting new social media network build on the basis of Steem coins. It is a platform that rewards content creators with steem depending on the amount of upvotes given. You can even earn money from commenting on other posts. If you are interested in trying out a potentially ground breaking platform join us at on steemit. For an explanation of steemit check out Jerry banfields video. All these options involve hard work and dedication. If you are hoping for a side hustle that will give you the potential to travel and work then do your research and choose the one which you will ENJOY the most not simply which one has the potential to make the most money. Don't forget if you are always stuck on your PC while travelling, are you really travelling? If you liked this article or have any questions / comments connect with us on Instagram and send us a question in the comments :
#dropshipping #howtomakemoneytravelling #howtobeadigitalnomad #makingmoneyabroad