Things to do in and around Ljubljana, Slovenia
Things to do in and around Ljubljana, Slovenia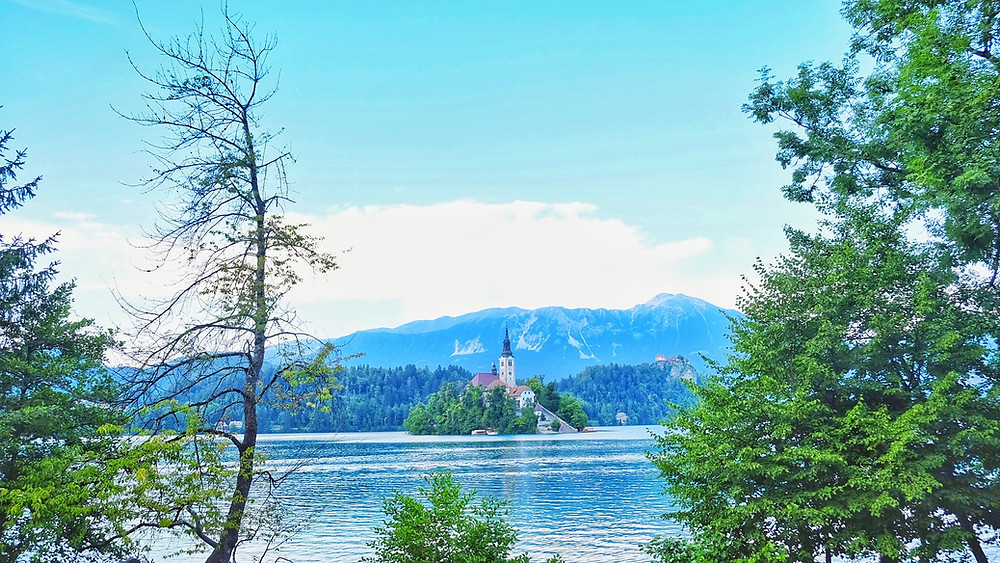 About Slovenia
Slovenia is one of the world's 'newest' countries, only gaining independence from Yugoslavia in 1991. It is the first and only green oasis in Central and South eastern Europe with its capital city, Ljubljana becoming the European Green Capital of 2016.
What makes Ljubljana a green capital?
Ljubljana has 74 per cent of housing is heated through a district wide system which uses Natural Gas.
Ljubljana is one of the few European capitals that can boast having water that is perfectly drinkable without pre-treatment.
The city centre is a pedestrian and cyclist zone, it really makes it a pleasure to explore this happening city centre.
The city's public transport is becoming ever more accessible and user-friendly to passengers.
Ljubljana is the first capital in the EU in the 'zerowaste' programme.
Ljubljana has 542 square metres of public green space per resident, while the city features 80 hectares of newly maintained green spaces, and maintained green spaces are still being created from degraded urban land.
Slovenia has very quickly become one of our favourite countries, not only because of it's natural beauty and passionate, friendly people but because of its diversity. It is a country that offers city, vineyards, coast (A whole 42km which they are very proud of), alps, lakes and greenery. It's a travel destination that is suited to everyone. We spent most of our time in the capital city of Ljubljana and used this almost like a base. It is a city full of life, beauty and so many exciting things to do everyday. Here's our top picks on what to do if you too find yourself stuck IN and AROUND Ljubljana.
Things to do IN Ljubljana, Slovenia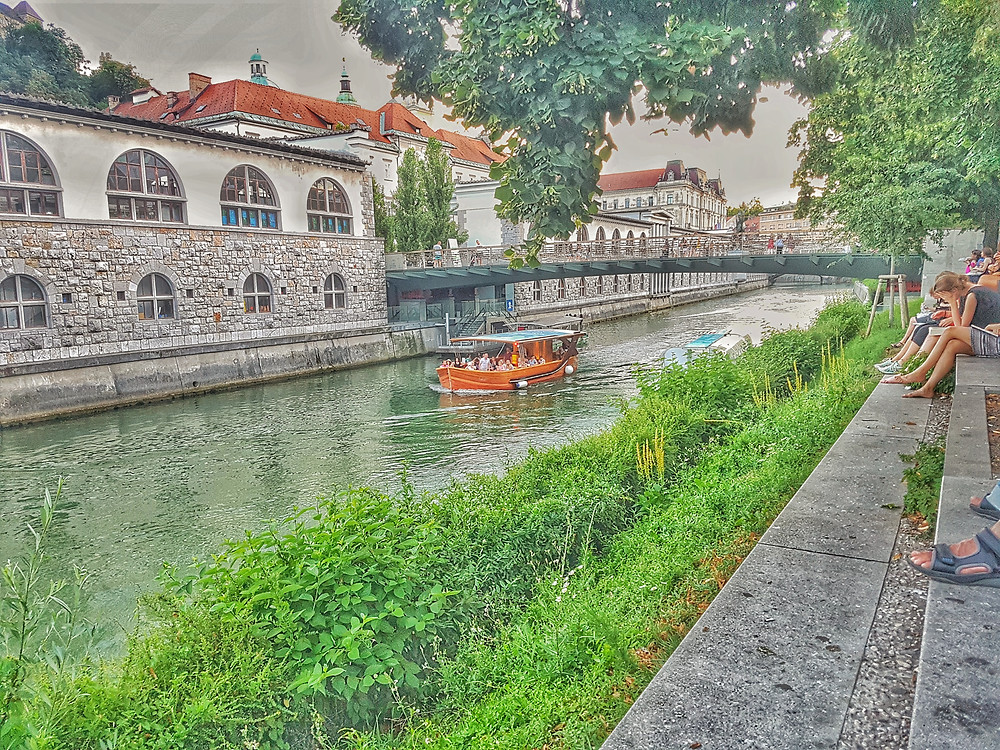 1. Burn your calves up to the castle
This medieval castle overlooking the the urban town of Ljubljana is a must see. While there is a 4 euro funicular that can take you up, we believe the best way to get to the castle is to walk up the hill and earn your view from the top. We reached the top and simply explored the 'free sections' of the castle and enjoyed the panoramic views, however many visitors decide to delve a little deeper and purchase an all round ticket which grants access to all sections of the Ljubljana castle. If you are here in July, we highly recommend attending the movies under the stars which is held right up in the castle. Movies cost around 5 euros, it was so good we went twice during our stay.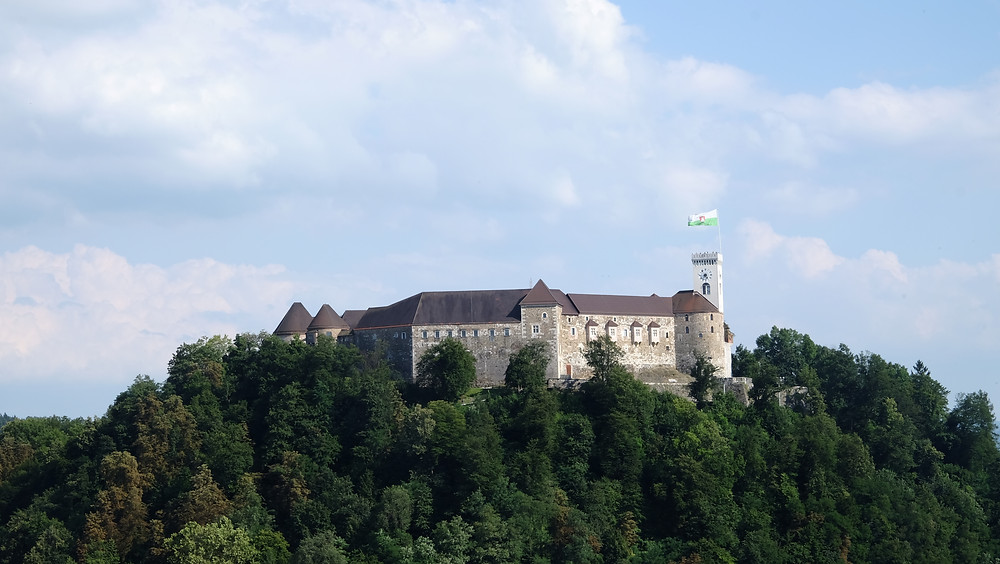 2. Stroll the pedestrian friendly streets in the old town
One of the coolest things about this city is that it is full of life – everyday. There are bars, restaurants, cafes, unique boutiques, CHOCOLATE shops (YUM), and artisan stands in every street that you turn. If you are only here for a day or two and feel like taking it easy, then this is enough for you to get to know this bustling city.
3. Ride your way through Ljubljana
One of the best ways to feel like a true local is to ride around town on a bike. You will notice that this town is inundated with locals on bikes both in and out of the pedestrian friendly streets. You can rent bikes at the tourist information centre for 2 euros/2 hours! On the bike you can explore Tival park, the botanical gardens (and stop to enjoy a refreshment at Cajnika Primula) and simply ride through the old town and get lost within the streets of the city.
4. Eat your way through the Central food market
If you love food (who doesn't?) then you must check out central food market where you will find fresh fruit and vegetables, meats, cheese, desserts, you name it! It is held everyday – except Sunday and is open from 9am till 2pm. If you're looking for a quick breakfast or lunch this is the perfect choice.
5. Explore Metelkova and be ART attacked (By day & night)
Are you a bit artsy? Then you must visit Metolkova. A quirky suburb for young artists it is a non commercial zone popular with both young Slovenians and travelers. It is here that you will find one of the highest rated hostels in Europe Hostel Celica an experience behind bars you wont forget. Nightime in Metelkova is the place that everyone goes after the bars close, you will find locals practicing on their guitars and a largely underground crowd drinking Laško's.
6. Lock up your love on the Butcher's Bridge
One of the iconic features of Ljubljana is the many bridges it has connecting the old town. The butcher's bridge is one of the many famous bridges, known for leaving a padlock of your love. The other famous bridge and one (or three i should say) that you will find yourself crossing several times, is the 'Triple bridge'. You will see why. It has not one but three bridges connecting its path. Along these bridges you will be able to enjoy the view of the river and watch people pass by on the boats beneath you.
7. Re-live your youth at the illusions museum (Muzejiluzij)
Ljubjlana is filled with museums and it is impossible to get to see all of them nor should you. Our choice was to visit the illusions museum. It costs 9.50 euros per person and you can stay as long as you desire. It is fun and cool to see, if that's what you are into. Check out the 'Muzejiluzij Ljubljana' for more info.
8. Enjoy a scenic Wooden boat ride
Sit back and relax on a glamorous and tranquil boat ride along Ljubljanca river . Here you will get to see all the cool bars and restaurants along the river (further than you may have thought to walk) and enjoy the serenity of the water & ducks passing by. We went with wooden boat company 'Laker craft', the only boat made out of wood on the river. It only costs 8 euros per person, or for a romantic experience you can pay 30 euro for two and enjoy a romantic ride during sunset while sipping on their local sparkling wine & indulging in strawberries and chocolates.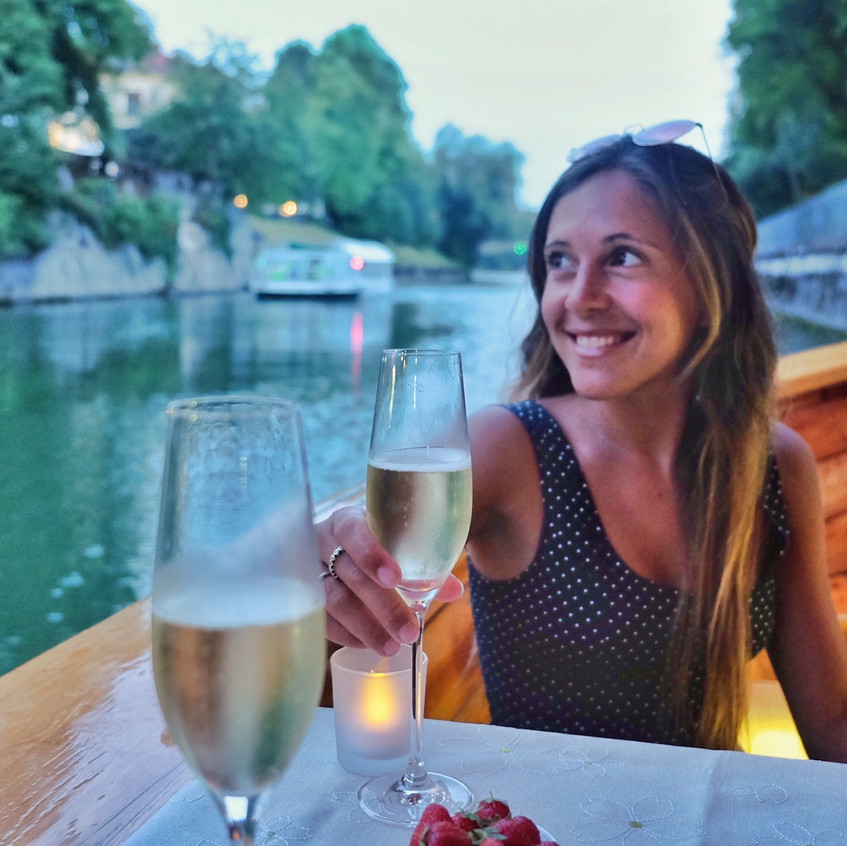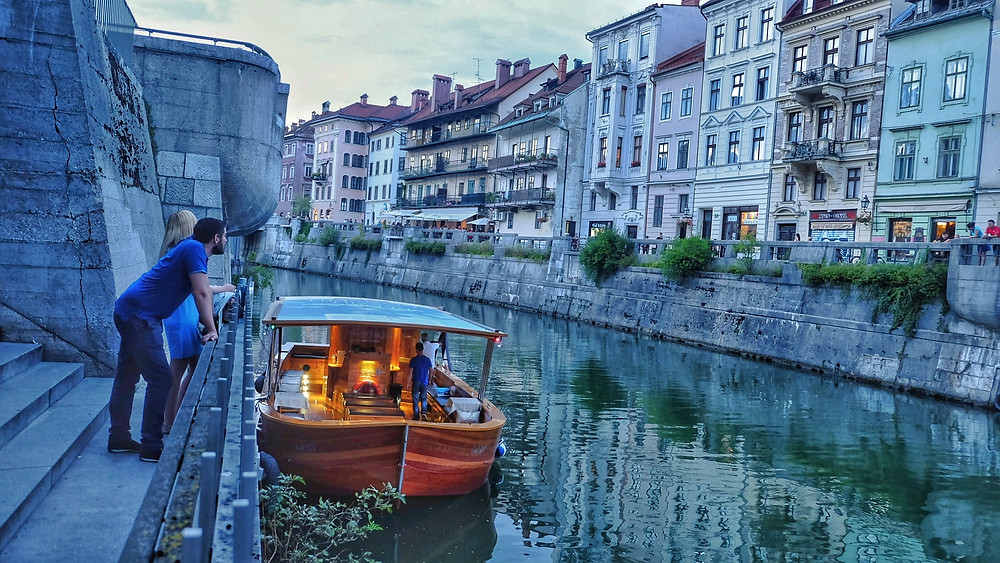 9. Get sweaty on the Roznik walk in Tival park
Being in a city for more than a few days sometimes means exercise is scarified with eating, drinking, and lots of strolling. Tivoli Park is Ljubljana's largest and most beautiful park, stretching right into the city centre. The beauty of this city is that it is surrounded by lots of green spaces contributing to its appointment as Europe's 'green capital 2016'. Tival park is perfect to take your rented bike or to walk to from the city centre. A place to go for a run or walk up the hill to find a great view of the town. If you have the time and feel like getting some movement in then this is worth the sweat.
10/10. Ljubljana Culinary experience with Cook Eat Slovenia
Without a doubt one of the best experiences you will have in Ljubljana is taking the culinary journey with Cook Eat Slovenia. As a relatively new and small nation, Slovenia is still yet to make it's mark on the world culinary scene, or so we would have thought before visiting Cook Eat Slovenia. In fact, This year the world's best female chef is named Ana Roš, a Slovenian woman who has brought the Slovenian kitchen to the world.
What enticed us to take this cooking course was how little we knew about cuisine in Slovenia. Our night with Spela from Cook eat Slovenia quickly changed that as she shared with us family recipes made with organic locally grown ingredients. Not only did we learn about the history of cuisine in Slovenia but we also got our hands dirty and contributed to every course. From starters, antipasto mains and desert our mouths still salivate when thinking about this experience.
If you find yourself in Ljubljana wanting to not only taste traditional Slovenian food but also grasp an understanding of the culinary history and methods then we can positively suggest contacting Cook Eat Slovenia and booking yourself in for a night your taste buds wont forget. Heading to Ljubljana and want to book in a culinary experience or want to simply learn more about Slovenian cuisine? Then find out more through Cook Eat Slovenia.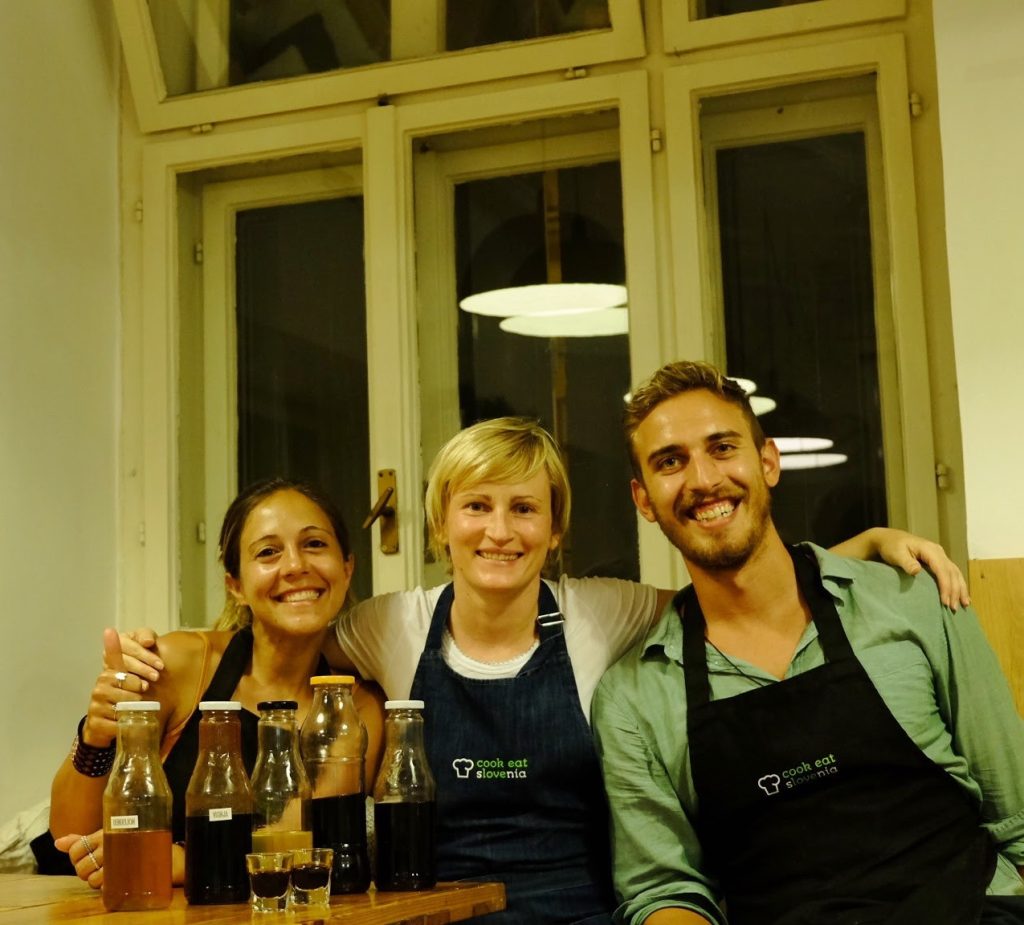 11. Enjoy a panoramic view of Ljubljana at the Sky scraper
Can't afford a room with a view? Don't worry, simply visit the Neboticnik (Ljubljana Sky scraper) and enjoy a drink with one of the best view in town. The tower has a bar on the roof with full panoramic views of the city without the cost of an expensive hotel room.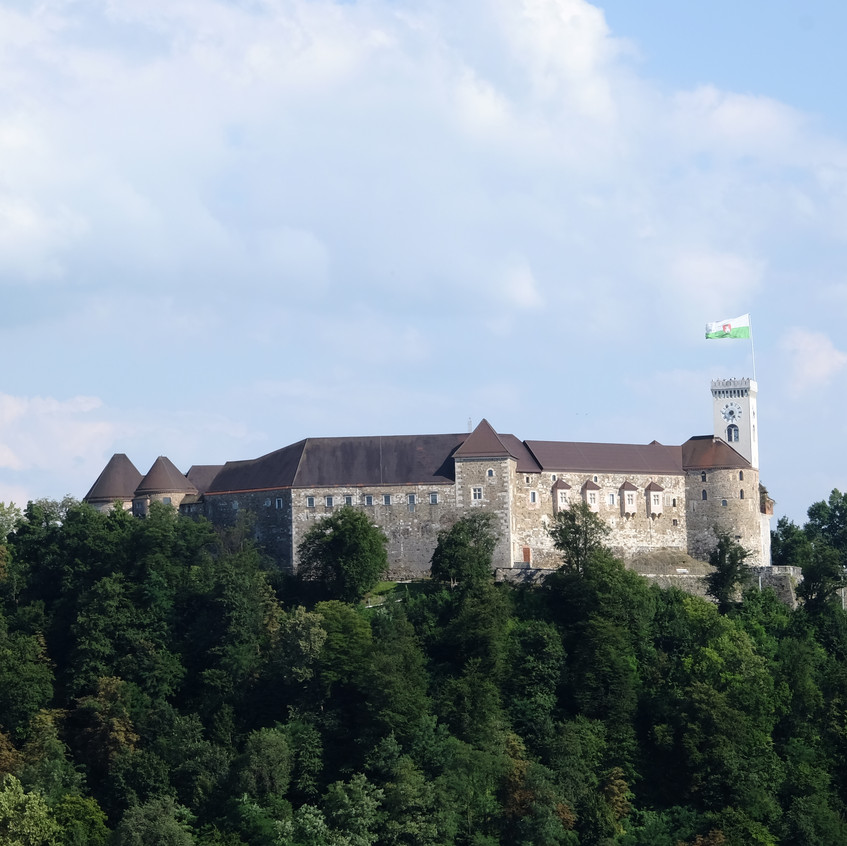 12. Friday Open Kitchen (Odprta kuhna) ​
This is an experience that will have your taste buds thanking you. Here you can try foods from around the world, cooked by Slovenians themselves. You will also food typical to Slovenia and tasty sweets and drinks too. It's a really cool environment as you can probably imagine as everyone hangs around socialising and enjoying the sun and beauty of the city.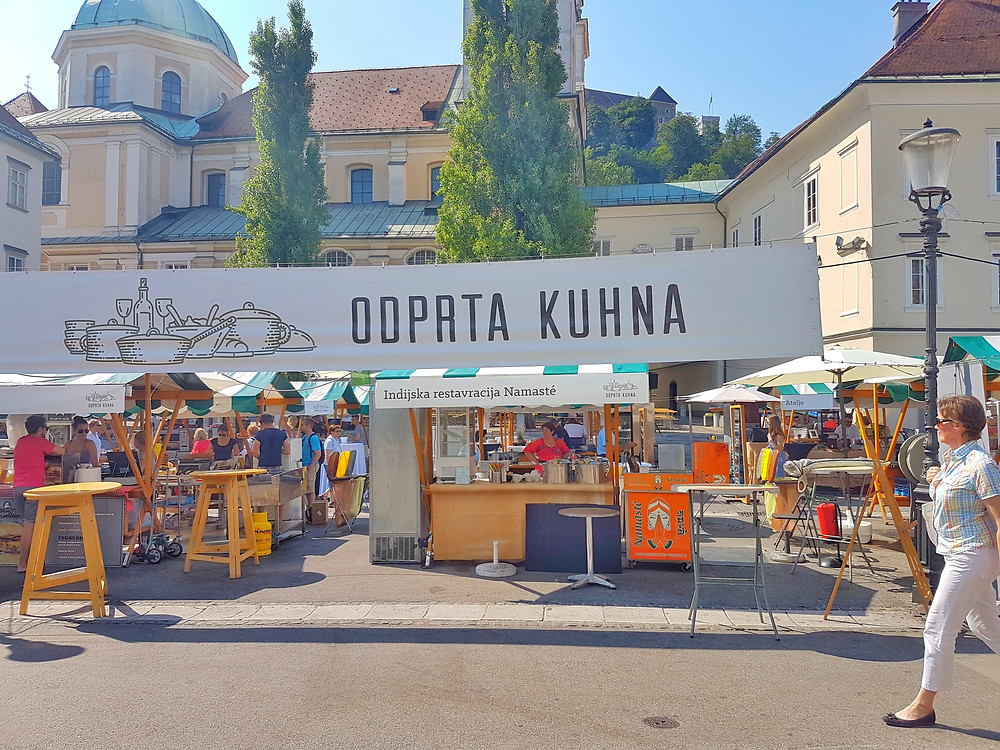 13. Saturday Artisan Market
While Ljubljana is always alive, Saturdays bring an extra edge to the city with the weekly Artisan Markets. With quirky and fun products from local artist there is always something different to catch your gaze. Whether you are a shopper or not it is a fun experience to be a part of the local market buzz.
14. Movies under the stars in the castle
We mentioned this briefly already but it really was great! A truly unique experience under the stars. I mean where else can you watch classic films in a castle built in the 11th century? For more info visit film under the stars Ljubljana.

Where to stay?
HOSTEL TABOR (Dormitory by winter, hostel by summer)
There are plenty of hostels and hotels in Ljubljana but we loved our stay at Hostel Tabor.
It is a 10 min walk from the bus station, 5 min walk to the centre, and only a 5 min walk to ALDI & mini market. It is affordable, clean, and fun. There is a 24 hour reception and the staff are really helpful and nice. There is a free kitchen to use, a laundry that costs 3 euro to wash your own clothes, and a common area to chill out and watch TV and meet other like minded travelers.
How to get to Ljubljana
Ljubljana is well connected and easy to get to and from. It is home to Ljubljana Jože Pučnik Airport Ljubljana, and has a railway station and a bus station (Avtobusna postaja Ljubljana). We entered Slovenia from Italy, using the 'Croatia' bus company from Trieste (in Italy) to Ljubljana. It cost 5.50 euro per person and it took approximately 2 hours. There are also regular buses which run between Zagreb, Croatia which take approximately 2.5 hours.
What to do AROUND Ljubljana, Slovenia
1. 'Glamping' in style at Camping Bled (One of the best spots on Lake Bled)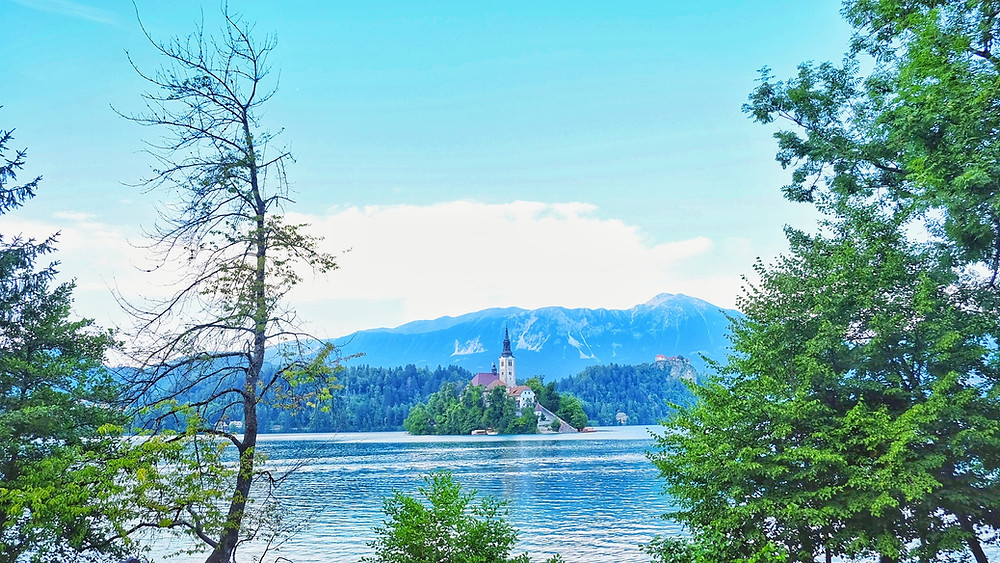 If anyone tells you to just do a day trip to Lake Bled, don't listen! One of our best experiences of Lake Bled was being able to come back to our glamorous hut at camping Bled after an action-packed day on the lake. It is no surprise that Lake Bled is one of Slovenia's hot spots. It is not only beautiful on the eye but there is so much to do.
The lake is surrounded by 7 km of track which make for the perfect stroll allowing you to enjoy the scenery at different view points, or you can get involved with activities such as rafting, stand up paddle boarding, canoeing, rowing, swimming, and bike riding. If you love action, lake bled has an endless amount of things to fill your day or two, or even three.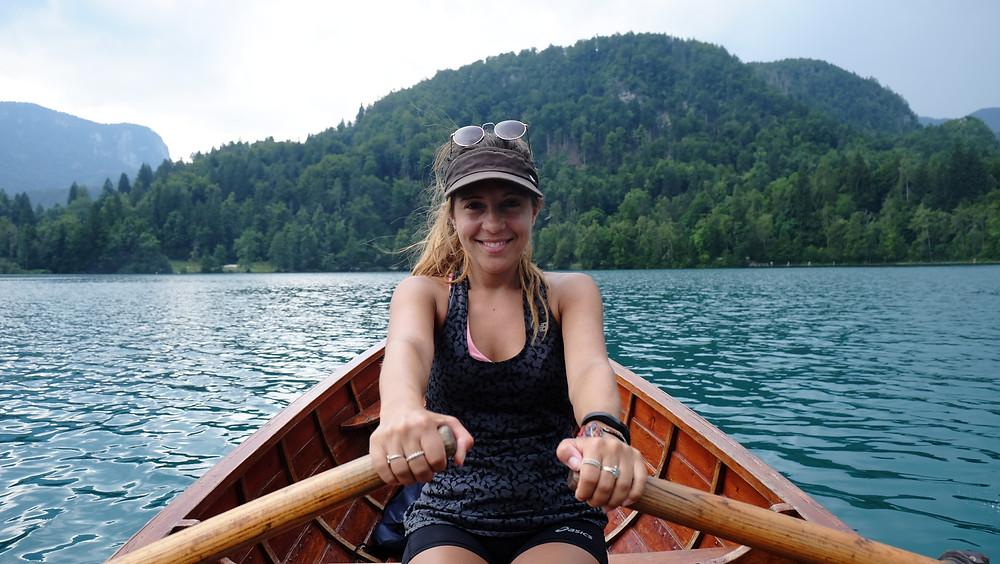 The glamping was the perfect way to sit back and relax after a long day. Staying here means you get the best of both worlds, you can enjoy the lake by day and by night. The glamping package offers a Hot tub, YES a HOT TUB! Your own private bath room, a delicious and very generous breakfast that is delivered to the front of your room at 8am and a cosy hut in the middle of nature. There is a mini supermarket and a restaurant where you can enjoy the taste of Bled in the campsite. They are open for the summer and winter, both delivering unique experiences. They offer different style of accommodation at Camping Bled but we loved our stay in the glamping huts.
Also, don't forget to try their famous cream cake when you are here, you will have earn't it with all the activities you have done.
How to get there? It is an easy bus ride away from Ljubljana's main bus station. It costs approx. 6.60 euro and takes around 1-1.5 hours. And returning is the same process just opposite direction.
Where to stay? Glamping at Camping Bled (approx. 100euro/night). If you get off at the 2nd bus station (the one after the main bus station) it is only a 20min walk away and a good chance to enjoy the beauty of the lake.
2. Take a refreshing dip at Lake Bohinj (Where you wish all your summer camps were)
Just like Lake Bled, Lake Bohinj is beautiful on the eye, for us it had even more fun things and it was evident it is where the Slovenian's go to holiday. Here you will find more locals enjoying the lake and admiring its beauty. We highly recommend starting off your day with a 9 km ride up to the waterfall Slap Savica Waterfall. The ride itself is part of the fun and while it is probably moderate difficulty you will enjoy various views of the lake along the way within the Triglav national park. You can rent a bike various shops all approximately 10 euros for 3 hours.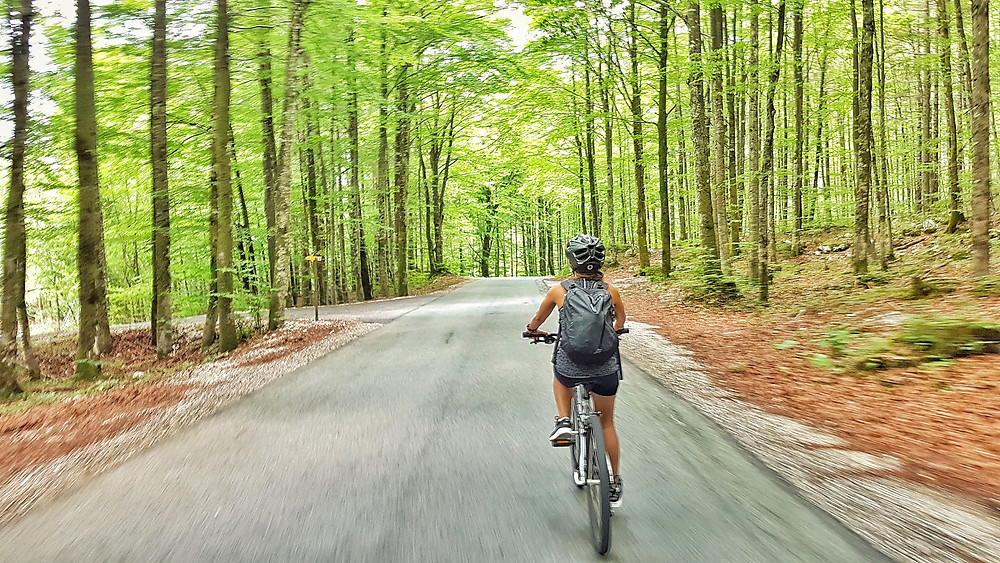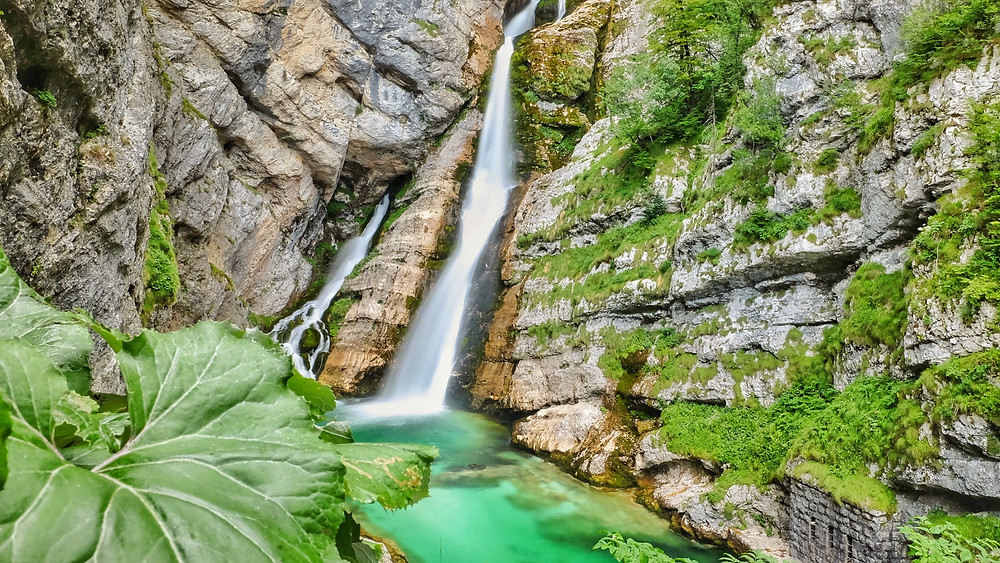 After you have sweated it out on the bike it's now the perfect time to take a refreshing dip in the crystal clear lake. If you feel like doing some activity you can rent a SUP (stand up paddle board) for 8 euro/hour and explore the lake on water. There's plenty of other activities to do (we wish we had the time) like wind surfing, rafting, kayaking, canoeing, and jumping into the water off a trampoline. If you love nature AND action, then you cannot miss this lake. It's only half an hour further away from Lake Bled and definitely worth the time.
How to get there? You can get to Lake Bohinj by the bus from Ljubljana's main bus station. It costs 8.30 euro and takes around 2 hours. And returning is the same process just opposite direction. If you are coming to and from Lake Bled, it is only about 30 min away by bus and costs about 3.60 euro.
3. Stay in Postojna & visit the castle & underground caves
If you are visiting Slovenia, chances are you have already penciled in Postojna. It is the number one tourist attraction in Slovenia (based on ticket sales) and has attracted almost 40 million visitors since its opening almost 200 years ago. The caves have to be seen to be believed so turn that pencil booking into ink. While Postojna is only an hour from Ljubljana we decided to experience the 'real' deal and stay overnight in the town. We stayed at HOTEL JAMA, a new hotel that located a few metres away from the cave. It is relaxing & comfortable and offers a unique experience here in Postojna. By staying onsite we were able to take a much more relaxed approach to the experience and enjoy the atmopshere here in Postojna by day and night. TIP*To beat the crowds our best bet is to go to the first cave tour and the last castle shuttle.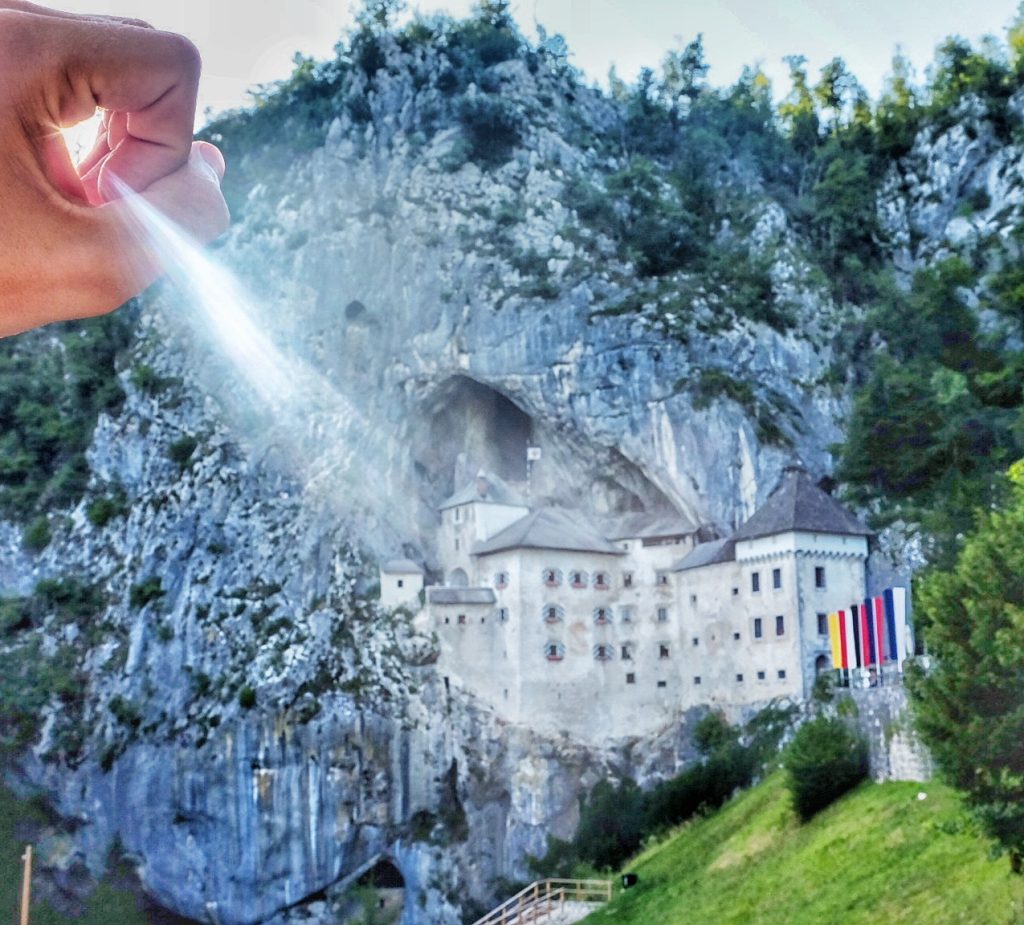 How to get there? You can get the bus from Ljubljana's main bus station. It costs 10 euro and takes approximately 1 hour. And returning is the same process. We got the bus from Ljubljana and then continued our journey into Italy from Postojna, therefore we caught a taxi into Trieste. Another option is to take the train to Koper (the Slovenian coast) and continue to explore Slovenia.
Where to stay? Hotel Jama. You cannot get a better location and comfortable place to stay than this. The Bus from Ljubljana takes you directly to the hotel (right where the cave is too) so it's easy to get to and from. The costs vary depending on which room you choose and whether you purchase the package deal that includes entrance fees to castle and cave as well as hotel stay.
Don't forget to follow our adventures on Instagram and send us a DM with any questions you may have about this blog 🙂
Want to share the love for Slovenia? Don't forget to share this link on your social media through the links below and help more people discover this Green Jewel in Europe.
#ThingstodoinSlovenia #WhattodoinSLovenia #WhattodoinLjubjlana #thingstoseeinLjubjlana #LjubjlanaTouristattractions #Ljubjlanatouristattractions #travellingtoslovenia #ifeelslovenia