How to Instagram Hashtag like a pro
How to #Hashtag like a Pro! So you want to be better at Instagram! There are a few key elements that we have found to success in Instagram, potentially none more important than using hashtags. Hashtags are essential for engagement and the more engaged you can get your followers the better the chance you can get them to read your awesome travel blogs. (Hint, hint read our recent travel blogs). Perhaps I should start at the basics, because sometimes even for experienced Grammers it's important to simplify things. A #Hashtag is simply a way of categorising photos on Instagram. When a hashtag is used on a photo, it puts that photo at the top of the most recent post list.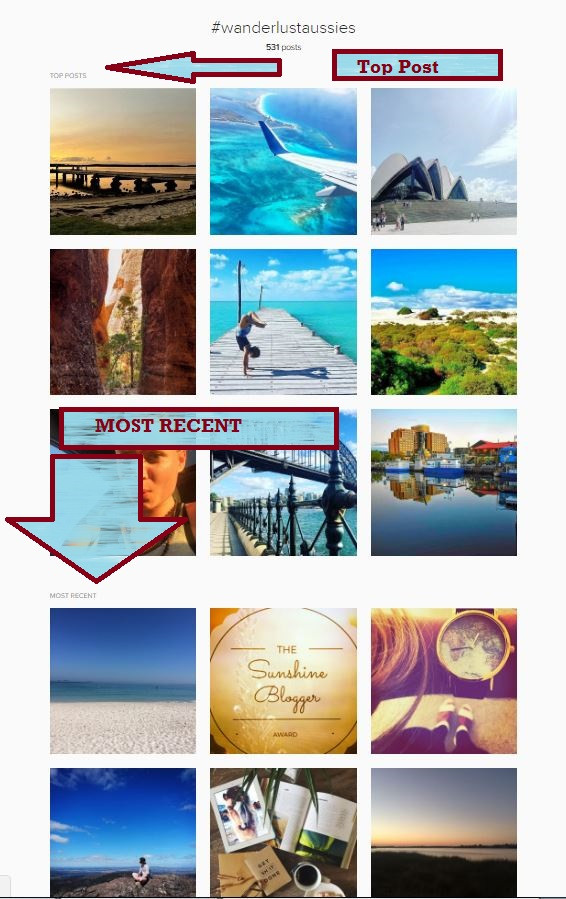 This is great! It means your photo will be seen by anyone who searches the given hashtag, and in this case #wanderlustaussies. With this hashtag for example with only 500 posts you can assume your post will take a while before it wilts down the recent post list. While this is handy, it's unlikely that our small hashtag is going to get much search!So what happens if we post with a hashtag with 3million posts like #travellife? Well within 9minutes it will be the 40th post on the most recent list and realistically few people who search for the hashtag will go past the last 15 most recent. The real goal for hashtags is reaching the Top 9 of a hashtag. Keep in mind the top 9 is not that same for everyone. It is based on an algorithm that considers both your own Instagram preferences and the engagement of the post over a short amount of time. Typically for #travellife you will need a minimum of 1500likes over the first two hours of a post to be featured in the top 9. So what does all this mean for your and how you should be hash tagging? You should be using a diversified hashtag technique like us! We use some big hashtags, some small hashtags and some right in the middle. Let me explain the purpose of each. Small hashtags like #wanderlustaussies or something specific that is very intune with our niche will give us long exposure in top posts and most recent. It won't help us get likes when we post but it will help us gain exposure to people who will really want to connect with us.
Medium hashtags such as #wanderlusters (45000 hashtags) are attainable for us to get into the top post for and remain there for between 6-48hours. This boosts our engagement over the first two days of our post. Large hashtags are essentially only useful for that initial boost! People searching for #travel (167mil posts) will like the most eye-catching recent photo which will appear at the top for no more than a minute. This is important because of the Instagram algorithm (my inner geek loves this part). Based on our engagement within the first 5minutes we can pretty much tell the end result of likes for a pic. Crazy right? Well it works because if a pic gets a high level of engagement within the first 30minutes, Instagram's algorithm says "damn this pic is on fire!" lets show it to more people! The algorithm then begins to favour this post and showers it higher in the feed of followers and recommends it to more people on the explore page. Are you still with me? So how many Hashtags should you use of each? We like to target the medium hashtags and use about 5 small, 5 large and 15 medium sized hashtags. We find this to be a good mix and helps us maximise our engagement, keep in mind the limit for a post is 30, totally up to you if you want to use all thirty. We normally throw in a few specific hashtags regardless of size that are super relevant to our photo. But for the majority of hashtags we just keep a list of travel related (as that's all we post about!) Thanks for making it to the end. If you sign up to our page and enter the members area we have uploaded a document containing travel related hashtags. There are about 100 categorised depending on the amount of posts in each. Also we just up a new forum so if you have any travel related questions we are eager beavers to answer them!