Crossing the road in Napoli
Crossing the road in Napoli
So you have visited Rome and probably thought the drivers there were crazy? Well you are in for a treat! If you, like us, have headed down the coast you are probably contemplating whether to stay in Napoli or whether to bypass it to explore the more Tourist "friendly" surrounds of Sorrento, Positano, Pompei and the Isle of Capri. So should you visit Naopli?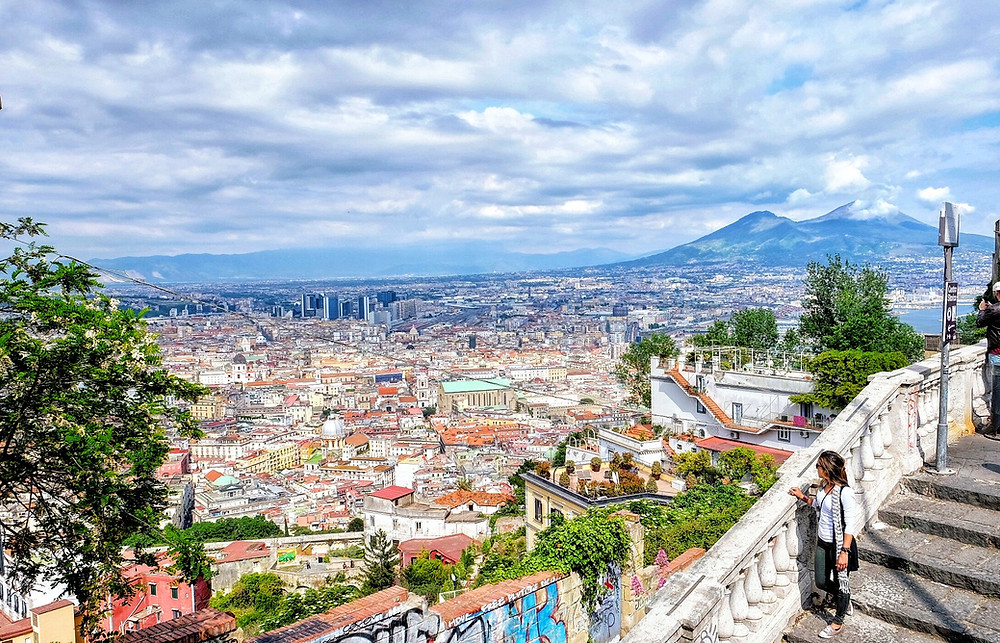 YES, it's so worth it, even if you don't fall in love with the chaos that is Napoli, every minute in Napoli is an experience and offers travelers a true Napoletana experience. Napoli is everything we have heard… it's loud, it's busy and at times it feels like cars and Vespas are actually trying to run you over. You may have heard that Napoli is a dirty city and that it is run by the mafia, whether this is true or not it won't really affect your time in Napoli. There is certainly a charm about the honesty and fast paced nature in which the citizans of Napoli go about their day. The streets make no sense with green lights having very little significance and pedestrian crossings being more of a guide to the least dangerous place to 'try and cross'.
What is there to See and Do in Napoli?
Napoli is a place best enjoyed by foot, simply wandering the streets and eating Pizza whenever you get peckish.
Piazza Duomo
Get lost in Centro Storico (the historic centre).
Stroll through Quartieri Spagnoli
Walk down the shopping streets and back streets of Toledo
Castel Dell'ovo , Free until 6pm and has gorgeous seaside panoric views of the city.
Castel Sant'Elmo its great for panoramic views. You can catch a Cable car up from Stazione Napoli Montesanto for 1Euro, You can walk both ways but we chose to just walk down. You can also enter the castle de Sant'elmo for a further 5euros to wander through the castle and catch another view from the top.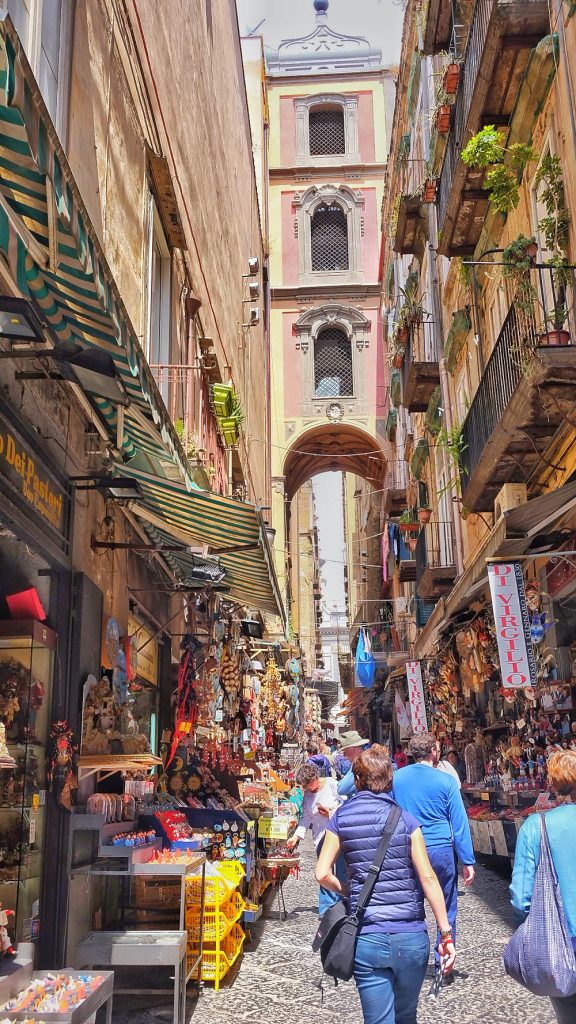 What and where to eat?
Gino e Totto Sorbillo (the origins of Pizza, get there around 6:40pm) It opens at 7 and will almost always have a line out front.
Il Vero Professore – Try Coffee a la Nocciola
Zia Esterimo Sorbillo – Fried pizza (panzerotti)
You never know when hunger will hit, but when it does, Napoli will have you covered. You will find delicious Pizza, arrancini and Panzerotti almost anywhere, and not to mention the gelato at every corner you simply cannot miss!
Is Napoli Safe?
Just like any big city there is the danger of petty theft and the potential of wandering down the wrong street. All in all we felt quite safe during our time in Napoli even if a little on edge while strolling the busy streets. Our biggest fear by far however was whenever we had to cross the roads. Worse still is when you are walking down what you believe to be a main pedestrian street and find our quite abruptly that scooters also frequent such narrow ally ways. At one point while walking along a footpath we had a family on a Vespa come onto the footpath and zoom up the street to avoid traffic, the funniest part was that there was a policeman leaning against his car smoking a cigarette who just shrugged as if to say "this is Napoli."
Besides the streets, your only other real threat is being pick pocketed. We didn't have any issues as such but were also super paranoid at times. We use a simple lock on our backpack just so that we don't have to stress about our valuables and to deter any petty theft. We only really used our DSLR when in busy places and during the day and kept it hidden at other times, especially when on public transport. Common sense goes a long way when it comes to protecting your belongings.
So how do you cross safely you may ask?
Cross at the lights, wait for them to be green but still watch out for cars and especially Vespas. If you are forced to cross through traffic, be confident! Almost impossible it seems, but confidence will show the drivers that they have to stop. Better still, walk next to a confident Napolitan, you will notice they barely bat an eyelid when a they are just inches away from being run over. Avoid roads, just walk around your block. But seriously, crossing the road it's an experience in itself just remember to be ALWAYS watching.
Where did we stay?
We stayed in the Hostel of the Sun, a conveniently located Hostel near the University Metro station in a safe and central Area of Napoli, perfect for exploring all the must see points in Napoli. The hostel has a fun and busy vibe which goes perfectly with that of the city. The staff were beyond helpful and helped us find all the best sights to see in our limited time in Napoli. There was a free pasta night when we arrived and cheap dinners provided most other nights. There are games, a comfy lounge area and even the Italian favourite Table soccer (Calcio Barilla). The hostel provides free breakfast with more than all the Nutella you can eat! (between the pizza, pasta and nutella we may be coming home a little more plump after this trip).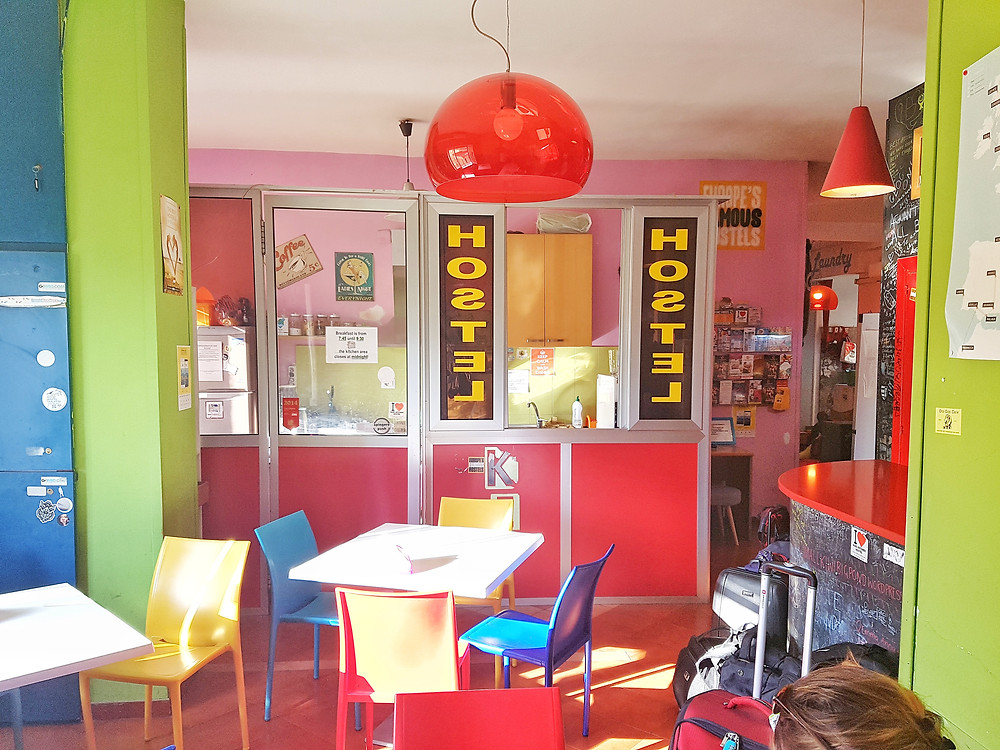 Do we recommend Napoli?
Absolutely! You probably have a preconception and while it probably isn't too far off, we bet you don't expect Napoli to have as much charm as it does. It is a busy city full of life with plenty to see, do and eat and we wouldn't have missed it for the world. Next stop for us are the Islands of Ischia and Capri, easily accessed by boat from Napoli port. So stay posted! 🙂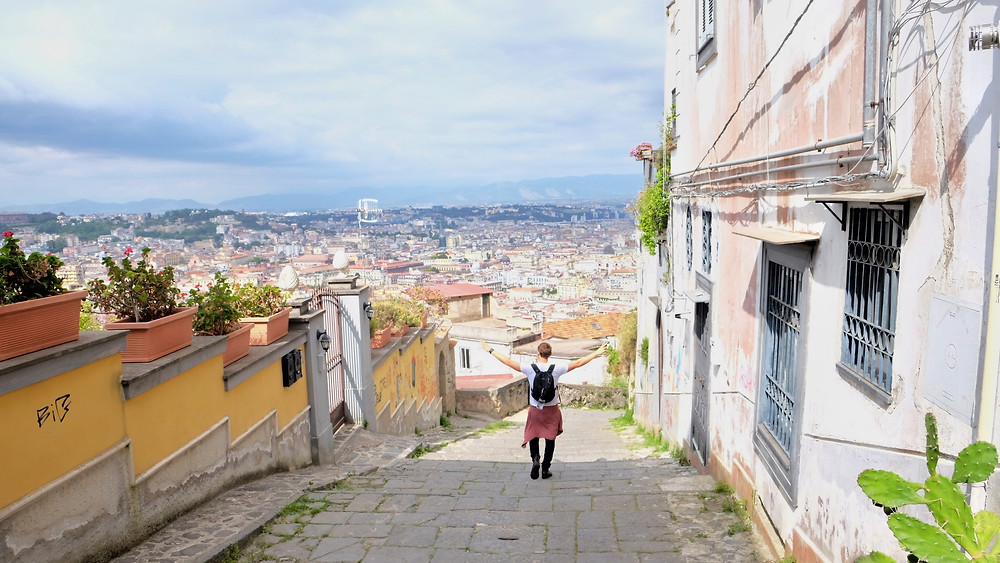 Where to Next?
Next we will be making our way to Ischia island, Capri's forgotten brother. We are looking forward to staying at Paradisebeachhostel and experiencing a new adventure.
If you liked this blog we always appreciate a share as it helps us spread the word on how to travel like a local and on a budget.
Have a specific question related to our travels or just want to get in touch, feel free to contact us, we always love hearing from like minded travelers and working with brands.
Don't forget to follow our adventures on Instagram and connect with us there 🙂
#VisitingNaopli