Capri on a Budget
Capri on a budget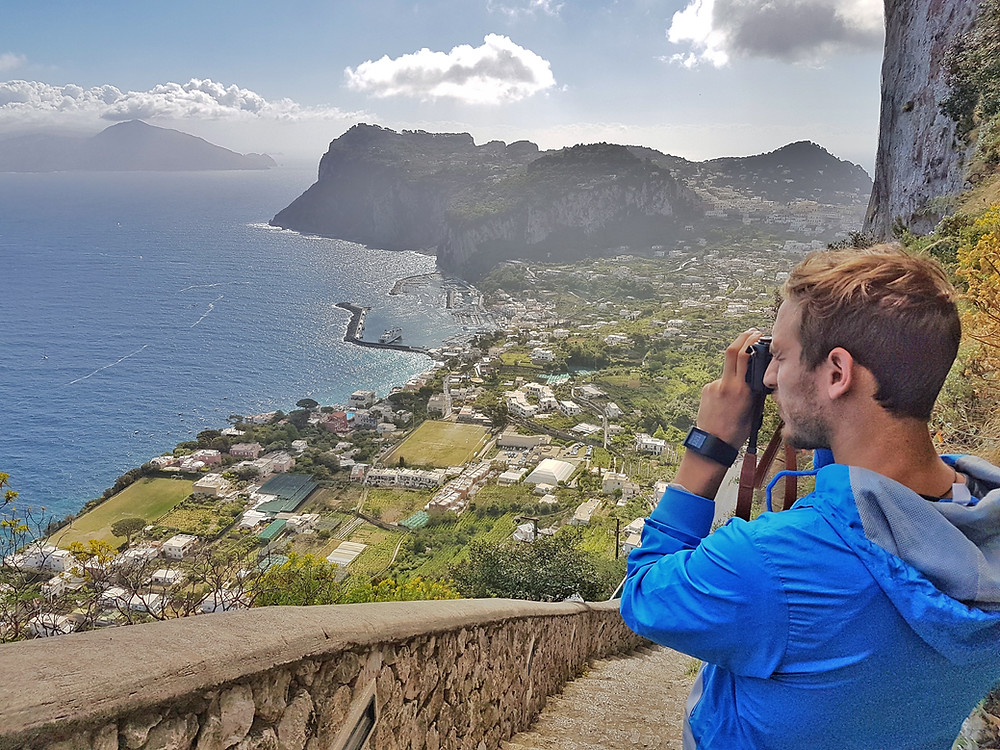 Capri, the island for the rich and famous just a boat ride away from the renowned Amalfi Coast. As budget travelers we were a little hesitant at first as to what we would encounter when arriving to Capri… As you would expect, the island is a tourist hot spot for Prada carrying Gucci wearing Italians, Russion princesses, American retirees and the rest of us… Most people arrive from Sorrento for a day trip and are scurried around the island for 5 hours of snaps, some over priced food, a stroll down the designer shopping streets and to catch a 2 minute glimpse of the blue grotto (14 Euros for a 2minute view inside). The island is quite small but even in a tour group you will find it hard to see half of what it has on offer and will probably forget what you saw by the end of the day.
What to do in Capri?
Capri has many beautiful landmarks and even with 2 full days and 30,000 steps a day we only captured a glimpse. Listed below are some of our favourite experience on the Island.
1. Walking from Ana Capri down to Capri is incredible! The views along the way are both Iconic and breathtaking. It's downhill but relatively steep, only about 3.5km (2.3miles) it's definitely worth it.
2.The Natural Arch, it is literally a huge rock window that was too big to fit into the camera.. Something you will appreciate much better in person. Take a glimpse down through the window and you will probably see a Super Yacht anchored a few hundred metres below.
3. Marina Picola, The small Marina is popular with locals and Italians with know how. It is only a 15minute walk down from Capri along a quiet and curvy road. It has a few places to relax and even go in for a swim. It was our favourite little place to relax and enjoy the views.
4. Fariglioni – Essentially a 30minute walk from the centre of Capri to enjoy a view of two stunning rocks isolated just off the coast of Capri. A great look out to also see Marina Picola and the coast line below.
5. Seggiovia – We definitely recommend catching the single chair life from Ana Capri up to peak of Capri. The chair lift takes you to a height of 560m. The views from the top are incredible and are enough to make anyone with a fear of heights just a little queezy. The chairlift runs up until 5pm and costs 11euros.
6. The blue Grotto – We didn't have the time to see the Blue Grotto but we have seen enough Instagram photos to know it's gorgeous. We also couldn't justify spending 28 Euros for 2 minutes when the island has so much more to offer.
While we did lots of walking, we would be crazy to recommend walking everywhere. The island is definitely way too steep! We walked most of the downhills and around the cliffs but caught buses up from Marina Picola and Capri to Ana Capri. Buses cost 1.8Euros for every trip but come quite often and are much more affordable than the taxi's on the Island.
Where did we stay?
We stayed in a lovely AirBNB up on the hill in Anacapri which was a fraction of the price to any other accommodation on offer. We essentially had our own apartment with very hospitable Nonni as our hosts. We felt that it was a true Capri experience. Staying overnight up in Ana Capri meant that we were blessed with a magical view of the island and could experience its beauty by night. By staying overnight on the Island you can have time to see all that the island has to offer at a more leisurely pace. It means you can walk some of the amazing paths which wind literally from Ana Capri to the main corners of the island. For us the beauty of Carpi was not so much the overpriced streets and designer shops but the incredible views that you come across when walking along the Cliff edge paths. Better still, most of the tourists are so busy on their tours to the "main" sights that you really do feel like you get away from the Chaos that is Capri. Note we visited in May and we can only imagine how busy the island would get in the peak of summer, we loved travelling at this time of year and can definitely recommend it before peak season.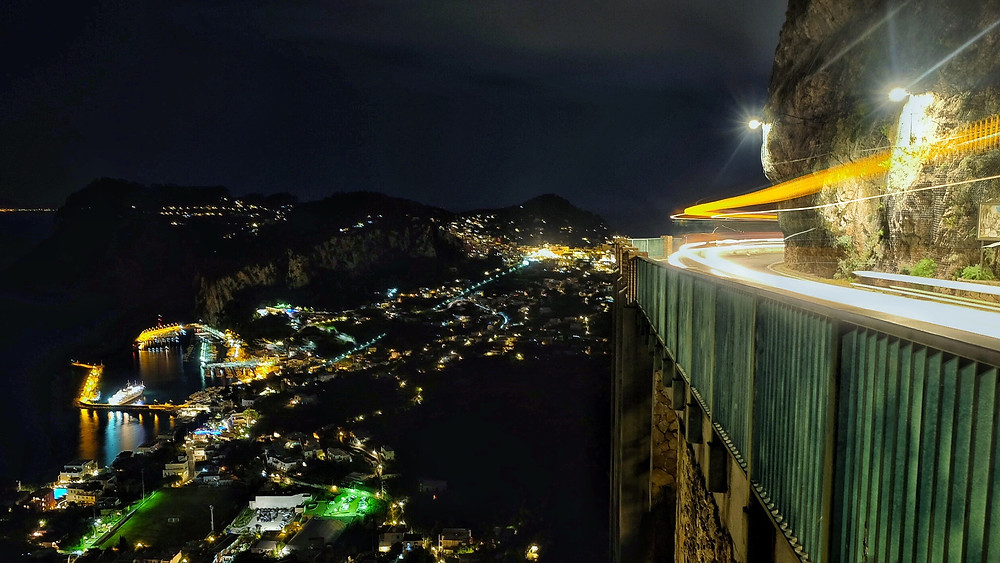 View of Capri from AnaCapri hill
Where did we eat?
This one is entirely up to your budget, it's a place that offers some incredible dining locations and experiences. We however love the simplicity of where locals eat and found ourselves having some delicious authentic Canelloni, Pizza,and Chicken Snitzel from our favourite local in Ana Capri. We don't see how you can beat taking away your food to enjoy it while watching the sunet (see below).
Do we recommend Capri?
We did enjoy it especially once we discovered how to avoid the tourists. We would definitely recommend it if you have the time to stay overnight and explore it by foot. Don't feel compelled to see everything or to take a guide, you won't always get a chance to see it all so its best to just enjoy and soak in what you have time for. Alternatively or surplus to Capri, we loved Ischia Island a short 50 minute ferry ride away. It is an island roughly twice as big as Capri with it's own unique beautiful Charm and plenty to do and see (and more affordable).
View from the top of Capri
How much did we spend?
(2 Nights, Two People)
We keep Track using an excel calculator we made (which you can access it in our Free members Area)
Accommodation: Two nights through Air BNB 180€ , Use our code here for a discount on your first stay.
Food : 55€
Travel: 90€ (Catching Ferries to and from the island as well as on the island is Expensive)Misc: 22€ Chair lift to the top (worth ever cent)Total 350€, The most expensive place on our Itinerary so far, but worth every Penny.
Where to next?
Next we will be heading to Sorrento to stay for 4 nights at Hotel Florida and exploring the Amalfi coast. Click here to follow our adventures 🙂
If you liked this blog we always appreciate a share as it helps us spread the word on how to travel like a local and on a budget.
Have a specific question related to our travels or just want to get in touch, feel free to contact us, we always love hearing from like minded travelers and working with brands.
Don't forget to follow our adventures on Instagram and connect with us there 🙂
#Caprionabudget